Student Research Poster Competition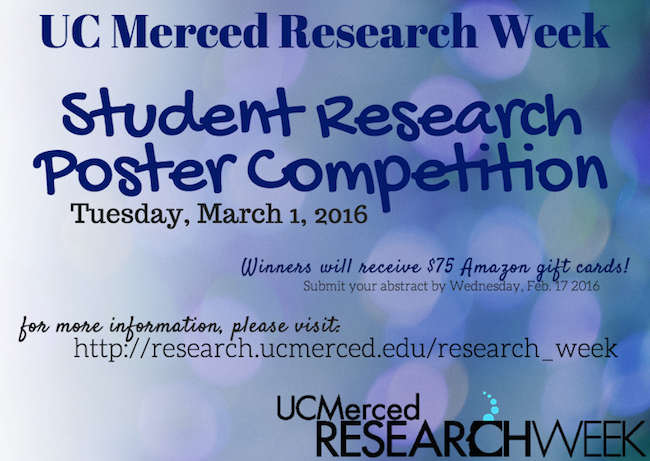 Sponsored by the Office of Research & Economic Development
Location: Joseph Edward Gallo Recreation and Wellness Center, Greg and Cathie Hostetler Court
Date: Tuesday, March 1, 2016. 
Time: 11:00 a.m. - 2:00 p.m.
All UC Merced students (undergraduate and graduate) are encouraged to participate in the university's eighth annual research forum. This forum will allow UC Merced's undergraduate and graduate students to present the contents of their research to the broader university community. Students are strongly encouraged to talk with their faculty advisors for further guidance. Students wishing to participate should review abstract and poster guidelines for entry.
All abstracts should be submitted electronically via the poster competition form no later than the Wednesday February 17, 2016. Only the first (senior) author should submit their information to the online form.
Poster competition winners will be announced on Friday March 4, 2016 at a Research Week closing ceremony.
If you have any questions, please contact us with the "Research Week" category.